The new standard in technology and business.
Revolutionize the way your business is run
With so many organizations migrating to completely remote working positions, Affordable Computer Solutions believes that cloud computing can revolutionize the way your business is run. As the costs of building and maintaining an IT infrastructure continue to rise, more businesses are moving their applications to a cloud-based infrastructure, and transformative technology advances as well as intuitive user interface designs are fueling the adoption of cloud services. And it's no surprise, because cloud-based services offer flexibility, reliability, and availability previously unavailable to IT departments.
Affordable Computer Solutions provides modern Cloud Computing Services to small to mid-size businesses located in the Tampa Bay area.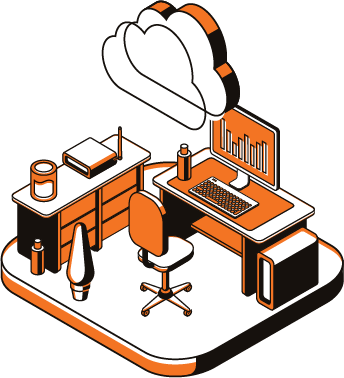 Provide flexibility and scalability for your widely distributed workforce
It has become one of the new standards in technology and in business. If you are looking to modernize the technology in your business, the first step should be to evaluate what technologies you are using, then determine which of these systems can be moved to the cloud. This move will greatly increase your business agility and save you money!
Cloud applications can provide flexibility and scalability for your widely distributed workforce to access information daily and communicate and collaborate on any device.
Our certified technicians are experienced with many cloud productivity platform solutions. We have migrated thousands of customers into various cloud solutions that are a best fit for their business size and industry.
SCHEDULE A FREE CONSULTATION
Let's sit down and talk about your business needs and how we can help.
Check out what some of our customers have to say about our superior service and amazing technicians.
I was helped by Ken and Carrie, amazing customer service! I work from home so being without a computer for too long simply isn't an option for me, and they were able to fix my laptop issue way faster than I expected! I am so glad I found this place, I highly recommend...
So if you're looking for great customer service, knowledgeable, and fast help. This is your place. I walked in there on a whim not expecting much, the owner assisted me quick and curiously. The whole shop made you feel welcome. I wouldn't take my business anywhere else, best...
We use Affordable Computers for both business and personal accounts. It is always a true pleasure working with their team. They are fast, efficient, and the utmost kindest! We have had a lot of needs and transitions over the years and they have walked us through every step and...
So relieved I found this service! Justin, the tech I was fortunate to get, was so knowledgeable and professional I couldn't believe what he was able to accomplish in such a short time. My mind is now at ease and my concerns solved. I'll be using this company in the future.